Prepping for Summer Camp With Allergies and Asthma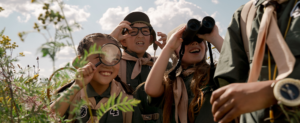 Hi-ho, Hi-ho, it's off to camp they go!
For most children, summer camp means s'mores by the campfire, swimming with their friends, and laughing in the dining hall, but for some, there's more to worry about. Children with allergies and asthma must be mindful and cautious when it comes to summer camp food and activities. "Can I eat that dessert in the dining hall? Should I play that game if I have asthma?" All that stress can really dampen the summer fun. Luckily, we have some precautions parents can take leading up to camp to ensure their child feels safe while having fun this summer!
We believe a child's allergic and asthmatic conditions should not hold them back. Before your child heads off to camp this summer remember these tips.
1. Speak with Camp Staff
Since allergies and asthma are so common, most camps already have protocols in place. When enrolling your child in camp, be sure to pay extra attention to any special requests or medical forms. These forms will help alert the staff of any precautions, medications, or medical concerns they should be aware of. Some even require a physician to sign off, so be sure to fill everything out in a timely manner. Don't be afraid to contact the camp director or medical official to discuss their policies for campers who have medical conditions. Alerting camp officials early can help them prepare and properly train their staff and volunteers. Ask how the staff will be trained and informed of your child's allergies and asthma. Keeping an open line of communication can help you and your child stay informed and safe during their time at the camp.
2. Check and Refill Medications Before Camp
Several weeks before camp starts, look over your child's prescriptions. Check for any that may be expired and ensure there is enough medication to last the duration of the camp. If you are leaving medication with the medical officer, be sure to clearly label the bag, bottle, or inhaler with your child's name. When dropping medication off, ask to speak with their camp counselor and the medical staff, to learn more about medical policies and share specific triggers your child may have. Ask where the medication will be kept and if your child will have quick access to things like their rescue inhaler and epinephrine auto-injector.
3. Check the Menu
If your child has food allergies, talk to the camp cook and dining hall staff ahead of time. Discuss any food triggers and learn what procedures are taken to prevent cross-contamination. See if you can get a copy of the menu to make sure you're aware of any potential allergens! In addition, remind your child to never trade food or take food from other campers. While it can be tempting, it's not worth the risk. If allowed, send your child with some allergy-safe snacks. This way they won't feel left out if other kids are eating or sharing food.
4. Keep Allergies and Asthma Top of Mind
Help others identify your child's allergies and asthma with an allergen identification bracelet, a tag on their backpack, or another type of visible ID. This will allow your child and camp staff to keep those conditions top of mind while still having fun. Even if you have alerted the staff, they may not know your child by sight; identification of some kind can help others around your child know of their allergies. Feel free to ask camp officials what identification tool would be most helpful to their staff.
5. Teach Responsibility
Whether your child is attending a sleep-away camp or a day camp, it is a great opportunity for them to learn responsibility for their allergies and asthma. Since this will be a condition they will likely live their entire life with, it's important they figure out how to navigate. If your child has an epinephrine auto-injector or asthma inhaler, walk them through their allergy or asthma action plans. Make sure they know their reaction signs and how to use each medication. Remind your child of any food allergens to avoid and have them check food labels before eating a snack. If they are too young to do this on their own, make sure they know to ask an adult for help. Encourage them to make smart choices and not to be afraid to turn down food if they don't know it's safe. Walk them through what you learned while talking to the camp director and staff. Tell them about where their medication is kept and who they should go to if they need medical assistance.
6. Pack for the Conditions
Be sure to pack supplies to help your child avoid the not so fun aspects of summer camp. Bug spray is essential to help ward off mosquitos and other pesky insects. If your child has a stinging insect allergy, alert the medical staff and ensure they have the proper medication in case of emergency. Pack an itch cream in case your child encounters plants like poison ivy. Teach them how to identify the plants and what steps to take if they do come in contact with it. Lastly, don't forget the sunscreen! Most campers spend a lot of time outside, so the SPF is necessary to avoid a painful sunburn.
Following these tips can help with your peace of mind while allowing your child to have a summer camp experience they will never forget! Remember that communicating with the staff when it comes to the health and safety of your child, is never a bad thing. Staying one step ahead of allergies and asthma by being prepared, is the best way to prevent a bad situation. If you have any questions or concerns about your child's allergies or asthma before camp, our doctors are here to help. Schedule an appointment or call 501.227.5210.
https://arallergy.com/wp-content/uploads/2022/05/camp-sq.png
280
468
Kaitie
https://arallergy.com/wp-content/uploads/2021/06/Website-Logo_full.png
Kaitie
2022-05-19 09:43:59
2023-02-16 22:49:26
Prepping for Summer Camp With Allergies and Asthma